Welcome to the Guild's site !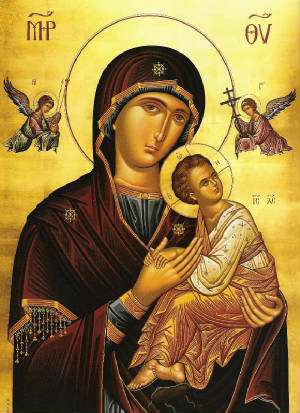 From St. Paul's Letter to the Galatians 5:22-26; 6:1-2

Brethren, the fruit of the Spirit is love, joy, peace, patience, kindness,goodness, faithfulness, gentleness, self-control; against such there is no law. And those who belong to Christ Jesus have crucified the flesh with its passions and desires. If we live by the Spirit, let us also walk by the Spirit. Let us have no self-conceit, no provoking of one another, no envy of one another. Brethren, if a man is overtaken in any trespass, you who are spiritual should restore him in a spirit of gentleness. Look to yourself, lest you too be tempted. Bear one another's burdens, and so fulfill the law of Christ.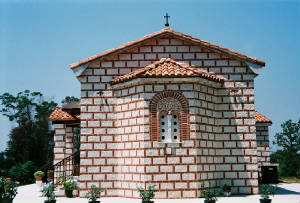 The Chapel of Panagia Soumela, Paracletos Monastery
Matthew 8:5-10 (New King James Version)
The Faith of a Centurion
5
Now when Jesus had entered Capernaum, a centurion came to Him, pleading with Him,
6
saying, "Lord, my servant is lying at home paralyzed, dreadfully tormented."
7
And Jesus said to him, "I will come and heal him."
8
The centurion answered and said, "Lord, I am not worthy that You should come under my roof. But only speak a word, and my servant will be healed.
9
For I also am a man under authority, having soldiers under me. And I say to this
one,
'Go,' and he goes; and to another, 'Come,' and he comes; and to my servant, 'Do this,' and he does
it.
"
10
When Jesus heard
it,
He marveled, and said to those who followed, "Assuredly, I say to you, I have not found such great faith, not even in Israel!
1 Peter 2:20 - 25
20 For what credit is it if, when you are beaten for your faults, you take it patiently? But when you do good and suffer, if you take it patiently, this is commendable before God. 21 For to this you were called, because Christ also suffered for us, leaving us an example, that you should follow His steps:
22 " Who committed no sin,
Nor was deceit found in His mouth";

23 who, when He was reviled, did not revile in return; when He suffered, He did not threaten, but committed Himself to Him who judges righteously; 24 who Himself bore our sins in His own body on the tree, that we, having died to sins, might live for righteousness—by whose stripes you were healed. 25 For you were like sheep going astray, but have now returned to the Shepherd and Overseer of your souls.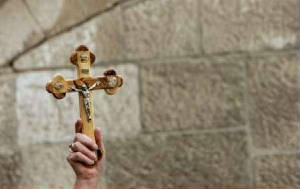 photo: Reuters/Eliana Aponte
1 Peter 5:2-3
New King James Version (NKJV)
2 Shepherd the flock of God which is among you, serving as overseers, not by compulsion but willingly, not for dishonest gain but eagerly; 3 nor as being lords over those entrusted to you, but being examples to the flock;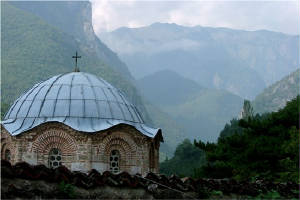 Greece
John 15:18-21 (New King James Version)
"If the world hates you, you know that it hated Me before it hated you. If you were of the world, the world would love its own. Yet because you are not of the world, but I chose you out of the world, therefore the world hates you. Remember the word that I said to you, 'A servant is not greater than his master.' If they persecuted Me, they will also persecute you. If they kept My word, they will keep yours also. But all these things they will do to you for My name's sake, because they do not know Him who sent Me.
James 2:14-26 New King James Version (NKJV)
14
What
does it
profit, my brethren, if someone says he has faith but does not have works? Can faith save him?
15
If a brother or sister is naked and destitute of daily food,
16
and one of you says to them, "Depart in peace, be warmed and filled," but you do not give them the things which are needed for the body, what
does it
profit?
17
Thus also faith by itself, if it does not have works, is dead.
18
But someone will say, "You have faith, and I have works." Show me your faith without your works, and I will show you my faith by my works.
19
You believe that there is one God. You do well. Even the demons believe—and tremble!
20
But do you want to know, O foolish man, that faith without works is dead?
21
Was not Abraham our father justified by works when he offered Isaac his son on the altar?
22
Do you see that faith was working together with his works, and by works faith was made perfect?
23
And the Scripture was fulfilled which says,
"Abraham believed God, and it was
accounted to him for righteousness."
And he was called the friend of God.
24
You see then that a man is justified by works, and not by faith only.
25
Likewise, was not Rahab the harlot also justified by works when she received the messengers and sent
them
out another way?
26
For as the body without the spirit is dead, so faith without works is dead also.
Matthew 20:20-28
New King James Version (NKJV)
Greatness Is Serving
20 Then the mother of Zebedee's sons came to Him with her sons, kneeling down and asking something from Him.
21 And He said to her, "What do you wish?"
She said to Him, "Grant that these two sons of mine may sit, one on Your right hand and the other on the left, in Your kingdom."
22 But Jesus answered and said, "You do not know what you ask. Are you able to drink the cup that I am about to drink, and be baptized with the baptism that I am baptized with?"
They said to Him, "We are able."
23 So He said to them, "You will indeed drink My cup, and be baptized with the baptism that I am baptized with; but to sit on My right hand and on My left is not Mine to give, but it is for those for whom it is prepared by My Father."
24 And when the ten heard it, they were greatly displeased with the two brothers. 25 But Jesus called them to Himself and said, "You know that the rulers of the Gentiles lord it over them, and those who are great exercise authority over them.26 Yet it shall not be so among you; but whoever desires to become great among you, let him be your servant. 27 And whoever desires to be first among you, let him be your slave—28 just as the Son of Man did not come to be served, but to serve, and to give His life a ransom for many."



The hierarch of the Serbian Church also noted that there is no room in the Church for ethnophyletism:
"There are no Chinese, no Japanese, no Russians, no Americans, no Serbs, no Montenegrins—there is only Jesus Christ and those who are gathered around him. This is the Church of Christ. So it has been throughout the centuries, and so it will be until the end of the world. This is very important to know in our times when people have distanced themselves from the Church. Many have left the Church, but at the same time want to rule it... They think they have the right to control the Church and its life. But it's impossible.
Another Serbian hierarch, His Grace Bishop Irinej of Bačka, has taken the same stance against ethnophyletism:
In this sense, we cannot accept this approach, in which we see ourselves as Greek Orthodox, Phanariots, and that over there, there are Muscovites, Slavs, etc. No: The Church is one. There are no Hellenes, no Greeks, no Russians, no Serbs, we are all one, if we are Orthodox. If we do not understand this, we are not Orthodox enough."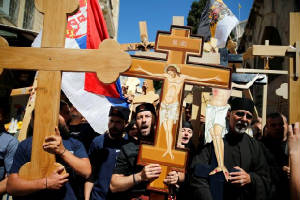 Is there Christianity without the Cross?
"The modern Christian sees himself as a more mature and advanced man who is able to see spiritual realities and understand spiritual truths in a much clearer way than his fathers. He looks condescendingly on the faith of his fathers as a sort of Dark Age of Christianity.
But the Orthodox Church and especially our suffering and misunderstood Russian Orthodox Church cries out like a voice in the wilderness, "there is no Christianity without the Cross". Our Church stands in contradiction to the contemporary voices of Christianity. The narrow path can only be the way of Calvary, the way of the Cross. There is no other way and there never has been. The Martyrs from all centuries bare witness to this.
Modern man has come to the unfortunate belief that we have a right to have a pain-free existence, we have a right to undeserved joy and peace and we will purchase these at any price." (A)
We have the right to the pleasures of life, our right to material goods and entertainment. And the Resurrection without commitment... Is there the Resurrection without the Cross? -- Deep in our hearts we know the truth. The Cross of Christ is really a symbol of victory. If there is no Good Friday then there is not Pascha. If there is no Cross then there is no Resurrection.
"Are we going through the motions?" Or not even the "motions" ... Did we even try to prepare for The Feast?
"What a grace-filled opportunity we are being given, to carry our cross and walk in the footsteps of Christ. We are being given the opportunity to become His disciples, for He said, you cannot be my disciple unless you deny yourself, take up your cross and follow Me."
(A)
(A) source: a priest of the Russian Orthodox Church
34 When He had called the people to Himself, with His disciples also, He said to them, "Whoever desires to come after Me, let him deny himself, and take up his cross, and follow Me. 35 For whoever desires to save his life will lose it, but whoever loses his life for My sake and the gospel's will save it. 36 For what will it profit a man if he gains the whole world, and loses his own soul? 37 Or what will a man give in exchange for his soul? 38 For whoever is ashamed of Me and My words in this adulterous and sinful generation, of him the Son of Man also will be ashamed when He comes in the glory of His Father with the holy angels."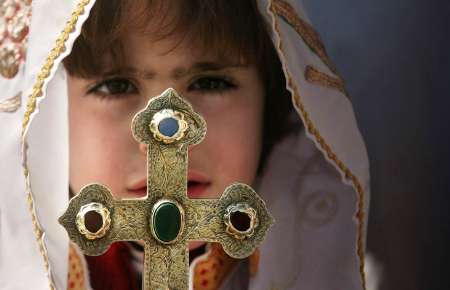 An Orthodox Christian boy holds a crucifix during an Epiphany rite at the Jordan River, near the West Bank city of Jericho, January 19, 2007. (Reuters/Yonathan Weitzman)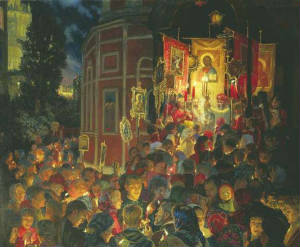 Yulia Kuzenkova - Easter 2002
Holy Tradition is the very Church; without the Sacred Tradition the Church does not exist. Those who deny the Sacred Tradition deny the Church and the preaching of the Apostles.

Before the writing of the Holy Scriptures, that is, of the sacred texts of the Gospels, the Acts and the Epistles of the Apostles, and before they were spread to the churches of the world, the Church was based on Sacred Tradition. The holy texts are in relation to Sacred Tradition what the part is to the whole. The Church Fathers regard Sacred Tradition as the safe guide in the interpretation of Holy Scripture and absolutely necessary for understanding the truths contained in the Holy Scripture. The Church received many traditions from the Apostles: The constitution of the church services, especially of the Divine Liturgy, the holy Mysteries themselves and the manner of performing them, certain prayers and other institutions of the Church go back to the Sacred Tradition of the Apostles.

In their conferences, the Holy Synods draw not only from Holy Scriptures, but also from Sacred Tradition as from a pure fount. Thus, the Seventh Ecumenical Synod says in the 8th Decree: "If one violates any part of the Church Tradition, either written or unwritten, let him be anathema."

~St. Nectarios Of Aegina
St. George Greek Orthodox Cathedral, Greenville, SC
Our Website Visitors (since 1 March 2014)