Monasticism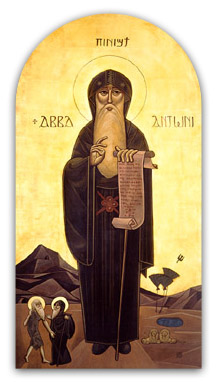 St. Anthony
a brief history and landmarks of monasticism

'The best way to penetrate Orthodox spirituality is to enter it through monasticism'

Paul Evdokimov, L'Orthodoxie ( Paris 1959)


The monastic life first emerged as a definite institution in Egypt and Syria during the fourth century, and from there it spread rapidly across Christendom. It is no coincidence that monasticism ashould have developed immediately after Constantine's conversion, at the very time when the persecutions ceased and Christianity became fashionable. The monks with their austerities were martyrs in an age when martyrdom of blood no longer existed; they formed the counterbalance to an established Christendom. People in Byzantine society were in danger of forgetting that Byzantium was an image and symbol, not the reality; they ran the risk of identifying the kingdom of God with an earthly kingdom. The monks by their withdrawal from society into the desert fulfilled a prophetic and eschatological ministry in the life of the Church. They reminded Christians that the kingdom of God is not of this world.
Monasticism has taken three chief forms, all of which had appeared in Egypt by the year 350, and all of which are still to be found in the Orthodox Church today. There are first the hermits, ascetics leading the solitary life in huts and caves, and even in tombs, among the branches of trees, or on the tops of pillars. The great model of the eremitic life is the father of monasticism himself, St Anthony of Egypt ( 251-356 ). Secondly there is community life, where monks dwell together under a common rule and in a regularly constituted monastery. Here the great pioneer was St Pachomius of Egypt ( 286-346 ), author of a rule later used by St Benedict in the west.

In Orthodoxy a monk's primary task is the life of prayer, and it is through this that he serves others.
It is not so much what a monk
does
that matters, as what he
is
.
Finally there is a form of the monastic life intermediate between the first two, the
semi-eremitic life
, a 'middle way' where instead of a single highly organized community there is a loosely knit group of small settlements, each settlement containing perhaps between two and six members living together under the guidance of an elder. The great centers of the semi-eremitic life in Egypt were Nitria and Scetis, which by the end of the fourth century had produced many outstanding monks - Ammon the founder of Nitria, Macarius of Egypt and Macarius of Alexandria, Evagrius of Pontus, and Arsenius the Great. ( This semi-eremitic system is found not only in the east but in the far west, in Celtic Christianity .) From its very beginnings the monastic life was seen, in both east and west, as a vocation for women as well as men, and throughout the Byzantine world there were numerous communities of nuns.
Because of its monasteries, fourth-century Egypt was regarded as a second Holy Land, and travellers to Jerusalem felt their pilgrimage to be incomplete unless it included the ascetic houses of the Nile. In the fifth and sixth centuries leadership in the monastic movement shifted to Palestine, with St Euthymius the Great ( † 473 ) and his disciple St Sabas ( † 532 ). The monastery founded by St Sabas in the Jordan valley can claim an unbroken history to the present day; it was so this community that John of Damascus belonged. Almost as old is another important house with an unbroken history to the present, the monastery of
St Catherine at Mount Sinai
, founded by the Emperor Justinian ( reigned 527-65 ). With Palestine and Sinai in Arab hands, monastic pre-eminence in the Byzantine Empire passed in the ninth century to the monastery of Stoudios in Constantinople. St Theodore, who became Abbot here in 799, reactivated the community and revised its rule, attracting vast numbers of monks.
Since the tenth century the chief centre of orthodox monasticism has been Athos, a rocky peninsula in North Greece jutting out into the Aegean and culminating at its tip in a peak 6,670 feet high. Known as 'the Holy Mountain', Athos contains twenty 'ruling' monasteries and a large number os smaller houses, as well as hermits' cells; the whole peninsula is given up entirely to monastic settlements, and in the days of its greatest expansion it is said to have contained nearly forty thousand monks. The Great Lavra, the oldest of the twenty ruling monasteries, has by itself produced 26 Patriarchs and more than 144 bishops: this gives some idea of the importance of Athos in Orthodox history.
There are no 'Orders' in Orthodox monasticism. In the west a monk belongs to the Cartusian, the Cistercian, or some other Order; in the east he is simply a member of the one great fellowship which includes all monks and nuns, although of course he is attached to a particular monastic house. Western writers simetimes refer to Orthodox monks as 'Basilian monks' or 'monks of the Basilian Order', but this is not correct. St Basil is and important figure in Orthodox monasticism, but he founded no Order, and although two of his works are known as the
Longer Rules
and the
Shorter Rules
, these are in no sense comparable to the
Rule
of St Benedict.
A characteristic figure in Orthodox monasticism is the 'elder' or 'old man' ( Greek
gerġn
; Russian
starets
, plural
startsy
). The elder is a monk of spiritual discernment and wisdom, whom others - either monks or people in the world - adopt as their guide and spiritual director. He is sometimes a priest, but often a lay monk; he receives no special ordination or appointment to the work of eldership, but is guided to it by the direct inspiration of the Spirit. A woman as well as a man may be called to this ministry, for Orthodoxy has its 'spiritual mothers' as well as its 'spiritual fathers'. The elder sees in a concrete and practical way what the will of God is in relation is in relation to each person who comes to consult him: this is the elder's special gift or
charisma
. The earliest and most celebrated of the monastic
startsy
was St Antony himself. The first part of his life, from eighteen to fifty-five, he spent in withdrawal and solitude; then, though still living in the desert, he abandoned his life of strict enclosure, and began to receive visitors. A group of disciples gathered around him, and besides these disciples there was a far larger circle of people who came, often from a long distance, to ask his advice; so great was the stream of visitors that, as Antony's biographer Athanasius put it, he became a psysician to all Egypt. Antony has had many successors, and in most of them the same outward pattern of events is found -
a withdrawal in order to return
. A monk must first withdraw, and in silence must learn the truth about himself and God. Then, after this long and rigorous preparation in solitude, having gained the gifts of discernment which are required of and elder, he can open the door of his cell and admit the world from which formerly he fled.
†Bishop Kallistos ( Timothy ) Ware,
The Orthodox Church
( New York 1983)
The Monastic Grades (click here)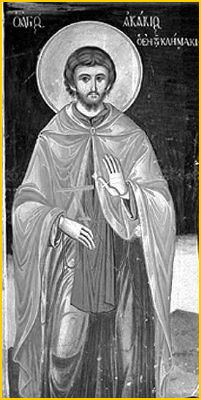 Saint Akakios of Sinai ("of the "Ladder")
Commemorated on July 7

Saint Acacius of Sinai lived during the sixth century and was a novice at a certain monastery in Asia. The humble monk distinguished himself by his patient and unquestioning obedience to his Elder, a harsh and dissolute man. He forced his disciple to toil excessively, starved him with hunger, and beat him without mercy. Despite such treatment, St Acacius meekly endured the affliction and thanked God for everything. St Acacius died after suffering these torments for nine years.

Five days after Acacius was buried, his Elder told another Elder about the death of his disciple. The second Elder did not believe that the young monk was dead. They went to the grave of Acacius and the second Elder called out: "Brother Acacius, are you dead?" From the grave a voice replied, "No, Father, how is it possible for an obedient man to die?" The startled Elder of St Acacius fell down with tears before the grave, asking forgiveness of his disciple.

After this he repented, constantly saying to the Fathers, "I have committed murder." He lived in a cell near the grave of St Acacius, and he ended his life in prayer and in meekness. St John Climacus (March 30) mentions him in THE LADDER (Step 4:110) as an example of endurance and obedience, and of the rewards for these virtues.

St Acacius is also commemorated on November 29.
source: OCA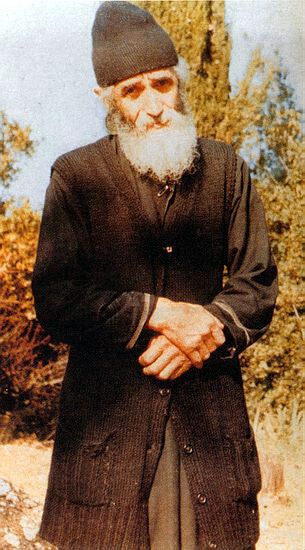 From the book, Precious Vessels of the Holy Spirit: The Lives and Counsels of Contemporar Elders of Greece, by H. Middleton.
On July 25, 1924, the future Elder Paisios (Eznepidis) was born to pious parents in the town of Farasa, Cappadocia of Asia Minor. The family's spiritual father, the priest-monk Arsenios (the now canonized St. Arsenios of Cappadocia), baptized the babe with his own name, prophesying his future profession as a monk. A week after the baptism (and barely a month after his birth) Arsenios was driven, along with his family, out of Asia Minor by the Turks. St. Arsenios guided his flock along their four-hundred-mile trek to Greece. After a number of stops along the way, Arsenios' family finally ended up in the town of Konitsa in Epiros (northwestern Greece). St. Arsenios had reposed, as he had prophesied, forty days after their establishment in Greece, and he left as his spiritual heir the infant Arsenios.
The young Arsenios was wholly given over to God and spent his free time in the silence of nature, where he would pray for hours on end. Having completed his elementary education, he learned the trade of carpentry. He worked as a carpenter until his mandatory military service. He served in the army during the dangerous days of the end of World War II. Arsenios was brave and self-sacrificing, always desiring to put his own life at risk so as to spare his brother. He was particularly concerned about his fellow soldiers who had left wives and children to serve.
Having completed his obligation to his country, Arsenios received his discharge in 1949 and greatly desired to begin his monastic life on the Holy Mountain. Before being able to settle there, however, he had to fulfill his responsibility to his family, to look after his sisters, who were as yet unmarried. Having provided for his sisters' future, he was free to begin his monastic vocation with a clean conscience. In 1950 he arrived on Mount Athos, where he learned his first lessons in the monastic way from the virtuous ascetic Fr. Kyril (the future abbot of Koutloumousiou Monastery); but he was unable to stay at his side as he had hoped, and so was sent to the Monastery of Esphigmenou. He was a novice there for four years, after which he was tonsured a monk in 1954 with the name Averkios. He was a conscientious monk, finding ways to both complete his obedience's (which required contact with others) and to preserve his silence, so as to progress in the art of prayer. He was always selfless in helping his brethren, unwilling to rest while others worked (though he may have already completed his own obedience's), as he loved his brothers greatly and without distinction. In addition to his ascetic struggles and the common life in the monastery, he was spiritually enriched through the reading of soul-profiting books. In particular, he read the Lives of the Saints, the Gerontikon, and especially the Ascetical Homilies of St. Isaac the Syrian.
Soon after his tonsure, Monk Averkios left Esphigmenou and joined the (then) idiorrhythmic brotherhood of Philotheou Monastery, where his uncle was a monk. He put himself under obedience to the virtuous Elder Symeon, who gave him the Small Schema in 1956, with the new name Paisios. Fr. Paisios dwelt deeply on the thought that his own spiritual failures and lack of love were the cause of his neighbor's shortcomings, as well as of the world s ills. He harshly accused himself, pushing himself to greater self-denial and more fervent prayer for his soul and for the whole world. Furthermore, he cultivated the habit of always seeking the "good reason" for a potentially scandalous event and for people's actions, and in this way he preserved himself from judging others. For example, pilgrims to Mount Athos had been scandalized by the strange behavior and stories told by a certain monk, and, when they met Elder Paisios, they asked him what was wrong with the monk. He warned them not to judge others, and that this monk was actually virtuous and was simply pretending to be a fool when visitors would come, so as to preserve his silence.
In 1958 Elder Paisios was asked to spend some time in and around his home village of Konitsa so as to support the faithful against the proselytism of Protestant groups. He greatly encouraged the faithful there, helping many people. Afterwards, in 1962, he left to visit Sinai where he stayed for two years. During this time he became beloved of the Bedouins, who benefitted both spiritually as well as materially from his presence. The Elder used the money he received from the sale of his carved wooden handicrafts to buy them food.
On his return to Mount Athos in 1964, Elder Paisios took up residence at the Skete of Iviron before moving to Katounakia at the southernmost tip of Mount Athos for a short stay in the desert there. The Elder's failing health may have been part of the reason for his departure from the desert. In 1966, he was operated on and had part of his lungs removed. It was during this time of hospitalization that his long friendship with the then young sisterhood of St. John the Theologian in Souroti, just outside of Thessalonica, began. During his operation he greatly needed blood and it was then that a group of novices from the monastery donated blood to save him. Elder Paisios was most grateful, and after his recovery did whatever he could, materially and spiritually, to help them build their monastery.
In 1968 he spent time at the Monastery of Stavronikita helping with its spiritual as well as material renovation. While there he had the blessing of being in contact with the ascetic Elder Tychon who lived in the hermitage of the Holy Cross, near Stavronikita. Elder Paisios stayed by his side until his repose, serving him selflessly as his disciple. It was during this time that Elder Tychon clothed Fr. Paisios in the Great Schema. According to the wishes of the Elder, Fr. Paisios remained in his hermitage after his repose. He stayed there until 1979, when he moved on to his final home on the Holy Mountain, the hermitage Panagouda, which belongs to the Monastery of Koutloumousiou.
It was here at Panagouda that Elder Paisios' fame as a God-bearing elder grew, drawing to him the sick and suffering people of God. He received them all day long, dedicating the night to God in prayer, vigil and spiritual struggle. His regime of prayer and asceticism left him with only two or three hours each night for rest. The self-abandon with which he served God and his fellow man, his strictness with himself, the austerity of his regime, and his sensitive nature made him increasingly prone to sickness. In addition to respiratory problems, in his later days he suffered from a serious hernia that made life very painful. When he was forced to leave the Holy Mountain for various reasons (often due to his illnesses), he would receive pilgrims for hours on end at the women's monastery at Souroti, and the physical effort which this entailed in his weakened state caused him such pain that he would turn pale. He bore his suffering with much grace, however, confident that, as God knows what is best for us, it could not be otherwise. He would say that God is greatly touched when someone who is in great suffering does not complain, but rather uses his energy to pray for others.
In addition to his other illnesses he suffered from hemorrhaging which left him very weak. In his final weeks before leaving the Holy Mountain, he would often fall unconscious. On October 5, 1993 the Elder left his beloved Holy Mountain for the last time. Though he had planned on being off the mountain for just a few days, while in Thessalonica he was diagnosed with cancer that needed immediate treatment. After the operation he spent some time recovering in the hospital and was then transferred to the monastery at Souroti. Despite his critical state he received people, listening to their sorrow and counseling them.
After his operation, Elder Paisios had his heart set on returning to Mount Athos. His attempts to do so, however, were hindered by his failing health. His last days were full of suffering, but also of the joy of the martyrs. On July 11, 1994, he received Holy Communion for the last time. The next day, Elder Paisios gave his soul into God's keeping. He was buried, according to his wishes, at the Monastery of St. John the Theologian in Souroti. Elder Paisios, perhaps more than any other contemporary elder, has captured the minds and hearts of Greek people. Many books of his counsels have been published, and the monastery at Souroti has undertaken a great work, organizing the Elder's writings and counsels into impressive volumes befitting his memory. Thousands of pilgrims visit his grave each year, so as to receive his blessing.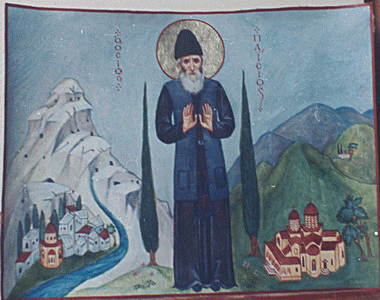 Elder Paisios
Concerning Freedom

The elder said: It is not freedom when we say to people that everything is permitted. That is slavery. To improve one must have difficulties. Let's take an example. We have a little tree. We take care of it. We place a stake and tie it with a rope. Naturally we don't tie it with wire because that way we would injure it. With their method they would not constrain the tree; and it doesn't develop properly otherwise. And look at the child. We limit his freedom from the beginning. When he is first conceived the poor thing is limited in his mother's womb and remains there nine whole months. Later he is born and immediately they swaddle him in a blanket, they tie him up, as soon as he begins to grow they set a railing, etc. All of this is necessary for him to grow. It appears to take away freedom, but without these protective measures the child will die in the first moment.

The elder said: Freedom is good when the person can use it appropriately. Otherwise it is a disaster.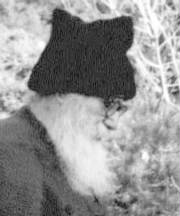 A Profile of Faith:
Elder Porphyrios
1906–1991
Elder Porphyrios at Kallisia, c. 1965.
Elder Porphyrios was born in the village of Aghios Ioannis in the province of Karystia on the Greek island of Evia (Euboea). The name he received at birth was Evangelos. His parents, Leonidas and Eleni Bairaktaris, were poor farmers and had difficulty in supporting their large family. For this reason his father left for America where he worked on the construction of the Panama Canal.
Young Evangelos was the fourth child of the family. As a boy he looked after sheep on the hills and had completed only the first class of primary school when, at the age of seven, he was obliged on account of his family's extreme poverty to go to the nearby town of Chalkida to work. He worked there in a shop for two or three years. Thereafter he went to Piraeus to work in a general store owned by a relative. At the age of twelve he left secretly to go to the Holy Mountain. His longing was to imitate Saint John the Hut-dweller whose life he had read and for whom he felt a special affinity. The grace of God led him to the hermitage of Saint George in Kavsokalyvia on the wooded slopes of the south-eastern extremity of Mount Athos where he lived in obedience to two elders, natural brothers, Panteleimon, who was a father confessor, and Ioannikios, who was a priest. He devoted himself with great love and in a spirit of utter obedience to the two elders who had a reputation for being exceptionally austere.
He became a monk at the age of fourteen and took the name of Niketas. Two years later he took his final monastic vows of the Great Schema. Shortly thereafter he was granted the gift of clear sight. At the age of nineteen he became very seriously ill and was obliged to leave the Holy Mountain. He returned to Evia where he went to live in the Monastery of Saint Charalambos at Levka. A year later, in 1926, and at the age of twenty, he was ordained priest at the Church of Saint Charalambos in Kymi by the Archbishop of Sinai, Porphyrios III, who gave him the name Porphyrios. At the age of twenty-two he became a confessor and spiritual father. For a time he was parish priest in the village of Tsakei in Evia.
He lived for twelve years in the Monastery of Saint Charalambos in Evia serving as a spiritual guide and confessor and then for three years in the deserted Monastery of Saint Nicholas in Ano Vatheia.
In 1940, on the eve of Greece's entrance into the Second World War, Elder Porphyrios moved to Athens where he became chaplain and confessor in the Polyclinic Hospital. He himself said that he served there for thirty-three years as if it were a single day, devoting himself untiringly to his spiritual work and to easing pain and suffering.
As of 1955 he made his home in the tiny Monastery of Saint Nicholas in Kallisia on the foothills of Mount Pendeli. He rented this monastic dependency along with the surrounding area from the Pendeli Monastery and worked the land with great diligence. At the same time he carried out his copious work of spiritual guidance.
In the summer of 1979 he moved to Milesi, a village some thirty miles north of Athens and overlooking his native Evia, with the dream of founding a monastery there. To begin with he lived in a caravan under exceedingly adverse circumstances and later in a simple room constructed from breeze blocks where he endured without complaint his many health troubles. In 1984 he moved into a room in a wing of the monastery which was under construction. In spite of the fact that the elder was seriously ill and blind, he worked constantly and unstintingly for the completion of the monastery. On the 26th February 1990 he was able to see his dream becoming reality when the foundation stone of the church of the Transfiguration was laid.
During the final years of his earthly life he began to prepare himself for his death. His desire was to return to the Holy Mountain and to his beloved Kavsokalyvia. So it was that he died in his hermitage in Kavsokalyvia on the morning of 2nd December 1991
source: Wounded by Love: The Life and Wisdom of Elder Porphyrios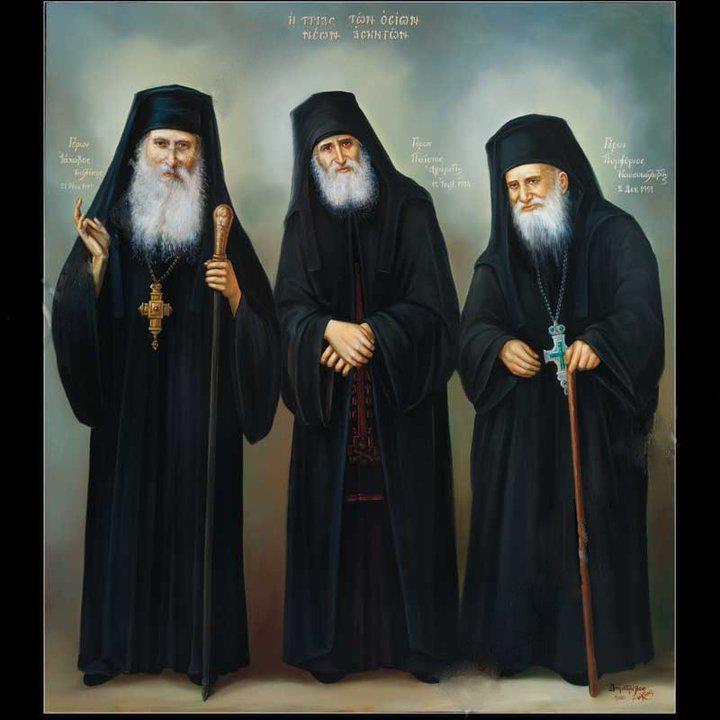 Holy, Venerable Elder Iakovos with the Holy Elders Paisios, and Porphyrios.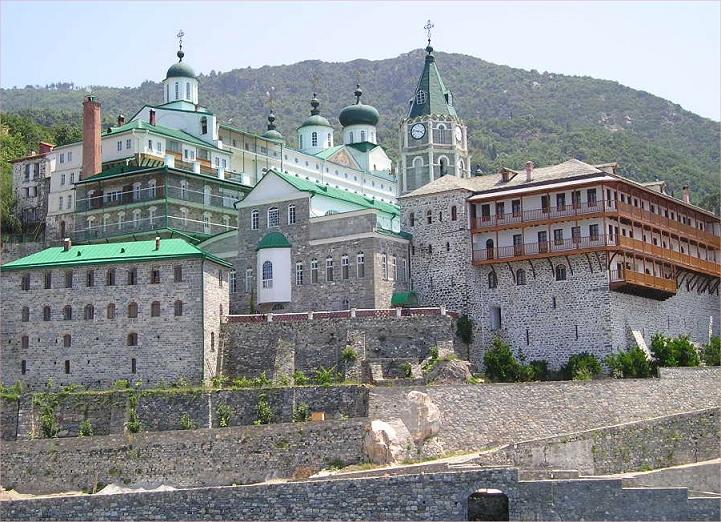 St. Panteleimon's Monastery on Mount Athos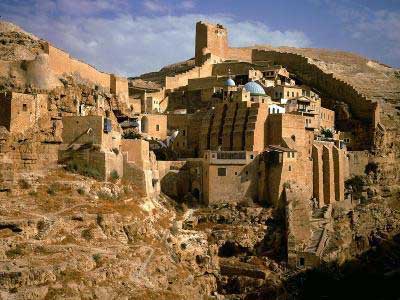 St. Sava's Orthodox Monastery near Bethehem, Israel
A Lesson for Children…
What Do Monks & Nuns Do
When the Holy Spirit established the Church on Pentecost, those who followed Christ were given a way to praise God and work toward salvation together, instead of struggling alone.
Every Orthodox Christian should be working toward salvation (which means "coming closer to God"), but some men and women are called by Him to put all their effort into knowing Him. They love praying to God and studying His Word so much that they do not marry or have children. The lives of these monks and nuns are totally dedicated to God and His Church.
Monks and nuns live away from the rest of the world in communities called monasteries. Men's monasteries are led by an abbot, and women's monasteries by an abbess.
The most important job of a monk or nun is to pray, both privately and communally ("as a group" or "together") by reading the holy Hours, participating in frequent (sometimes daily) Liturgy, and observing all the other services and feasts in the cycle of the Church. Monks and nuns go to Church several times a day, every day!
While we are at school and at work, or playing in the back yard, monks and nuns make sure that praise is always offered to God. Day or night, a monk or a nun somewhere in the world is singing to God or praying silently. That means the Orthodox Church is always at prayer.
Monks and nuns pray for us. They pray in our place when we are doing something which keeps us from saying our own prayers, and they pray on our behalf by asking God to grant salvation and health to every Orthodox Christian. (They do this every day, even if we don't pray ourselves because we're too young or too sick - or just too lazy.) Because of monks and nuns, we are always remembered before God. What a great gift!
Because monks and nuns spend so much time praying and studying, they have a very special wisdom with which to interpret the world in which we live today. Many people call on monastics to ask for advice and guidance, or to learn more about the Orthodox Faith.
The second job of a monk or nun is to teach the True Faith, Holy Tradition, and an Orthodox lifestyle to all of us, both formally (in sermons, lectures, or writings) and informally, by their example.
Many monastics become experts in a specific areas: Scripture, the writings of the Church Fathers and Mothers, the lives of the saints, liturgics (that is, how and why our religious services are conducted), iconography, music, etc. With the blessing of their Abbot or Abbess, they may travel to speak, or write and publish books and newsletters on topics important to the Church. If several monks or nuns share the same area of expertise, the monastery itself may host retreats or lectures for those interested in learning more.
Monks or nuns will often mentor ("oversee and guide") the studies of others, and help them to grow spiritually and academically so they can work for God, too.
Parish priests and other lay people may ask a monk to be their Spiritual Father. He hears their confessions and guides their spiritual growth and development. Nuns may be Spiritual Mothers, too, but absolution is always given by a priest, or monk who is also ordained a priest (called a hieromonk or archimandrite).
Participating in the full cycle of Church services, praying privately, studying the Scripture and the writings of the Church Fathers and teaching occupy a great deal of a monk's or nun's day. But in addition to their full-time efforts in praying and teaching, many monastics work "part-time" to support their monastery.
Individual monks or nuns may write icons (that is, holy pictures that tell stories about Christ and the saints) for use in our homes and Churches or create beautifully-written passages of Scripture (called "illuminated calligraphy"), if God has given them that talent. Others may translate Scripture, music, or the writings of the Church Fathers from Greek, Russian, or Serbian into English for our use, or from English into a different language (like Aleute or Japanese) for missionary use.
A monastery might sell candles, incense, or other religious items (like prayer ropes), which certain monks or nuns spend part of each day making by hand. Frequently, monastic communities operate a book store or collect and sell items used in Church services or in our icon corners at home, since many parishes and families visit them.
Some monks or nuns may be assigned the tasks of planting and tending the monastery's orchards and gardens, preparing food for the community and its visitors, and doing the cleaning and washing for everyone, so that others may do different types of work.
The whole monastic community works together to do God's work. Monks and nuns work toward salvation together, by praying, studying God's Word and teaching it to us and to others, and working hard to support the Church and the monastery where they live.
by Nichola Toda Krause
"By a special privilege, the head of the monastery of St. Catherine (left) built by Emperor Justinian I in the sixth century near the spot where Moses is said to have received the Tablets of the Law, enjoys the rank of an archbishopric, and the monastery has the status of an autonomous church. The archbishop-abbot is elected by the chapter of monks but receives episcopal consecration at the hands of the Patriarch of Jerusalem. He only has jurisdiction over the monastery and the Bedouins who live in the neighborhood. The Archbishop of Sinai generally resides at the metochion (priory) of his monastery in Cairo. The monastery of Sinai possesses a very rich library of ancient Greek, Georgian, and Slavic manuscripts, and an interesting collection of icons." -- The Orthodox Church: Its Past and Its Role in the World Today by Fr. John Meyendorff
A Profile of Faith:
Blessed Elder Archimandrite Philotheos Zervakos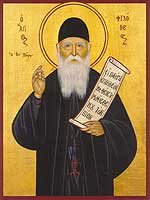 Philotheos Zervakos - Blessed Elder Archimandrite Philotheos Zervakos of Longovarda (1884-1980) is a well-known 20th-century Greek Orthodox elder, from Paros island, and spiritual son of St. Nektaros of Aegina. He was imprisoned twice by the Turks during the final years of the Ottoman occupation of Thessaloniki and many have witnessed the saint to "float/walk on air". Although he has not been glorified he is considered a saint in Greece.

Blessed Elder Archimandrite Philotheos (Zervakos) was born in the small and remote village of Pakia in Sparti, Peloponesse, Greece, in the year 1884 and was given the name of Constantine at his baptism. From childhood he demonstrated an exceptional love for God.

He was 18 years old, when he was inspired by the 54th Psalm to follow the monastic life. He departed from his paternal home with neither shoes or any possessions; he only had his tunic and a small gospel. In 1912, April 22, Father Philotheos was ordained to the priesthood by Metropolitan Gabriel of Trifilia and Olympia. In 1924, he made an extensive pilgrimage to the Holy Land and Egypt. This is all described in his book published in 1925, Great and Wondrous Pilgrimages to Palestine and Sinai.

In 1930, Elder Ierotheos reposed, and Fr. Philotheos succeeded him as abbot of Longovarda. By this stage, Fr. Philotheos had the reputation of a saint. In 1934, he made another pilgrimage, this time to Constantinople. He returned to Greece and founded the convent of Panagia Myrtidiotissa Thapsanon (The Virgin of the Myrtle Tree), 4 km from Lefkes on the island of Paros, Greece.

Throughout his life, the Elder preaches the word of God and heard confessions for 68 years (1912 to 1978). During this time, he visited the islands of Paros, Antiparos, Naxos, Amorgos, Thera, Syros, Tinos, Andros, Sifnos, Patmos, Rhodes, Chios, Mytilene, Aegina, Hydra, Cyprus, Kefallinia, Zakynthos, Evoia, Skiathos, Prigippos. He also visited over 54 cities and towns throughout Greece, including Athens, Sparta, Corinth, Thessaloniki etc. and internationally including Alexandria, Cairo, Constantinople, Suez etc

During his life, he built 12 churches, two monasteries, three cemeteries and two schools. The money he would receive from the faithful he would distribute to the poor, the widows and the orphans.

On the morning of May 8, 1980, the blessed Elder Philotheos died in his cell at Thapsana, Paros. His funeral was conducted by Archimandrite Dionysios of Simonopetra Monastery of Mt Athos. His relics were laid to rest at the convent in Paros, in a place that he chose beside the chapel dedicated to his spiritual mentor, St. Nectarios of Aegina (November 9).

He wrote :

Everything that the all-wise Holy Apostles and the Godly-wise Fathers of our Holy Orthodox Church handed down to us, many of their successors today want to abolish and so dislodge the Church. However, they will be unable to do this, because the Lord will crush them like vessels of clay. And the few elect will be shaken, and few out of the few will remain unshaken. Let us force ourselves to remain faithful and unshaken in whatever we have received from the divine Apostles, the Holy Fathers, and the teachers of our Church ... do and write as much as you can, but todays generation has eyes and sees not, ears and hears not... [Jer. 5:21; cf. Ezek. 12:2, Ps. 134:16-17, Mark 8:18]....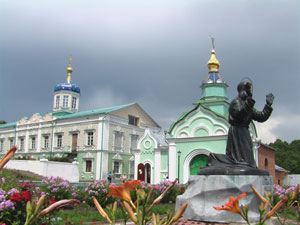 From the Online Orthodox Catechism, Eglise Orthodoxe Russe
In the Orthodox Church the rite of monastic tonsure has a sacramental character. It is called a 'sacrament' ('mystery') by Dionysius the Areopagite and other early Christian authors. It is also called a 'sacrament' in the rite itself. Like Baptism, it is death to fleshly life and a birth into a new, spiritual mode of existence. Like Chrismation, it is the seal and sign of being elected by God. Like Marriage, it is the betrothal with the Heavenly Bridegroom, Christ. Like Priesthood, it is a consecration for ministry to God. Like the Eucharist, it is union with Christ. As in Baptism, so in monastic tonsure the person receives a new name and has his sins forgiven. He rejects the sinful life and gives vows of faithfulness to Christ; he takes off a secular robe and puts on a new garment. Being born again, the person assumes infancy anew in order to attain 'to the measure of the stature of the fulness of Christ' (Eph.4:13).
The main goal of monasticism is the imitation of Christ whose way of life as described in the Gospel was altogether monastic. He was not married, was free from earthly bonds, had no roof over His head, travelled from place to place, lived in poverty, fasted, and spent nights in prayer. Monasticism is an attempt to come as close as possible to this ideal. It is the quest for sanctity, a search for God as the ultimate goal, the rejection of everything that binds one to earth and prevents one from ascending to heaven.
Monasticism is an unusual and exceptional way of life: not many are called to it. It is a life entirely and integrally given to God. The monastic renunciation of the world is not a hatred of the world's beauty or of the delights of life; it is rather renunciation of sins and passions, of fleshly desires and lusts, in short, of everything that entered human life after the Fall. The aim of monasticism is a return to that primordial chastity and sinlessness which Adam and Eve possessed in Paradise. The church Fathers called monasticism 'a life according to the Gospel' and 'a true philosophy'. As philosophers sought perfection along the paths of intellectual knowledge, so monks pursue perfection along the paths of ascetical struggle in imitation of Christ.
The entire philosophy of monasticism is expressed in the following words of Christ: 'If you would be perfect, go, sell what you possess and give to the poor, and you will have treasure in heaven; and come, follow Me' (Matt.19:21); 'If any man would come after Me, let him deny himself and take up his cross and follow Me. For whoever will save his life will lose it, and whoever loses his life for My sake will find it' (Matt.16:24-25); 'He who loves father and mother more than Me is not worthy of Me' (Matt.10:37). Monasticism is for those who want to be perfect, to follow Christ and to give their life for Him, to sell everything in order to have heavenly treasure. Like a merchant who goes and sells all his possessions in order to buy a pearl, a monk is ready to deny everything in the world in order to acquire Christ.
Monasticism was a part of the Church's life from very early times, but it came to the force in the fourth century, when persecutions ceased. While during the first three centuries all adherents to Christianity were potential martyrs, in the fourth century the new faith virtually became the state religion of the Roman Empire. Now the quest for martyrdom and sacrifice led people into deep deserts, where ascetics created their 'state within the state'. The deserts of Egypt, Syria and Palestine, once fruitless and lifeless, were watered and populated by monks.
These are three basic vows taken by monks: obedience, poverty and chastity.
Obedience is a deliberate denial of self-will before God, before the abbot (hegumen) and before every member of the community. The Greek word hypakoe ('obedience') literally means 'hearing', 'listening'. Monastic obedience is hearing what God wants to tell a monk, listening to His will. Humans suffer greatly from their inability to follow God's will and to accept the world around them as it is. People always tend to think of the circumstances of their lives as less than desirable, and of those close to them as less than perfect. They want to change the world around them but, unable to do so, they find no rest, no peace. A monk, on the contrary, teaches himself to accept everything as it is and to receive from the hand of God with the same joy and thanksgiving both consolation and sufferings, health and illness, fortune and misfortune. With this attitude the monk obtains an inner, undisturbed peace that no external circumstances can spoil.
Poverty is a deliberate rejection of every earthly possession. This does not necessarily mean that a monk is totally deprived of all material things: it means that he must not be attached to anything earthly. Having inwardly rejected material wealth, he attains that spiritual freedom which is higher than any earthly possession.
The word 'chastity' is used in English to render the Greek sophrosyne, which literally means 'wisdom', 'integrity'. Chastity is not synonymous with celibacy: in monasticism the latter is only an element of the former. Chastity as wisdom and integrity, as life according to the Gospel and abstinence from passions and lusts, is also necessary in marriage. To live in chastity means to have one's entire life oriented to God, to check every thought, word and deed against the Gospel's standards.
As far as celibacy is concerned, in the context of monastic life it is a supra-natural form of existence. Loneliness is incompleteness, a deficiency: in marriage it is overcome through a common life with one's spouse. Monks are espoused to God Himself. Monasticism is therefore not the opposite of marriage. Rather, it is also a kind of marital union, but not between two human beings: it is a union of the human person with God. Love is found at the very heart of both marriage and monasticism, but the object of love is different. A person cannot become a monk unless his love for God is so deep and ardent that he does not want to direct it to anyone but Him.
Monastic tonsure takes place in the church: it is normally conducted by a bishop or an abbot. The one to be tonsured takes off all his civil clothes, puts on a long white robe and stands before the abbot. Upon making his monastic vows he listens to the abbot's exhortations, after which he receives a new name, is tonsured, and clothed in black monastic vestments. When the rite has finished, each member of the community comes to him, asking: 'What is your name, brother?' The newly-tonsured monk, according to tradition, spends several nights in the church reading the Psalter or the Gospel.
Monasticism is an inner and hidden life. It is absolute and the most radical expression of Christianity as a 'narrow way' leading to the Kingdom of heaven. Monastic detachment and concentration into oneself, however, does not imply egoism or the absence of love for one's neighbour. Being outside of worldly vanity, a monk does not forget his fellow humans, but in the silence of his cell prays for them.
The church Fathers understood that the transfiguration of the world and people's happiness depend not so much on external circumstances but on people's inner condition. True renovation of the world is only possible in the realm of spiritual life. Thus, neither Christ, nor the apostles nor the church Fathers demanded social changes; rather, all of them called for the inner spiritual transformation of each particular human being. Monks do not attempt to make the world better. They try to make themselves better in order that the world might be transformed from within. 'Save yourself, and thousands around you will be saved', says St Seraphim of Sarov. These words reflect the ultimate goal of monasticism and of Christianity in general. Needless to say, monasticism is not the only way of 'saving oneself', not even the best or the most convenient way. It is one of the ways, like marriage or priesthood, which may lead one to salvation and deification, if one continues along this path to the end.
Reflectory at a Female Monastery
Monasteries around the World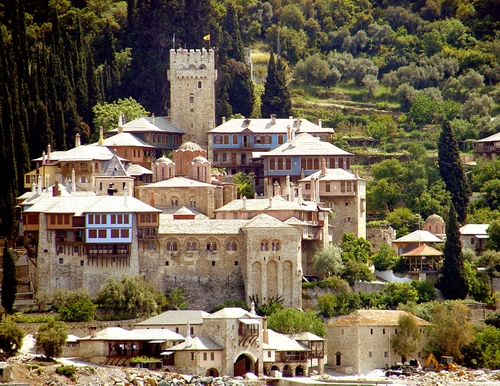 Dochiariou monastery , Chalkidiki, Greece - photo: Panoramio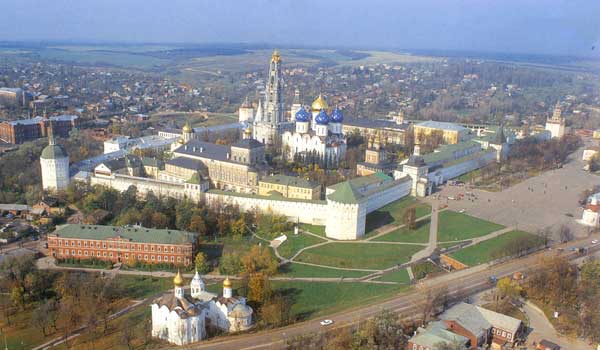 The Holy Trinity - St. Sergius Lavra, Sergiev Pasad, Russia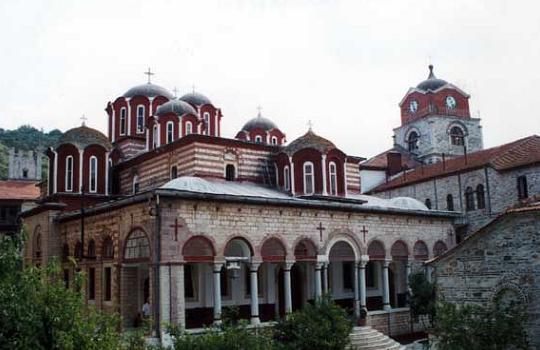 The Esphigmenou Monastery @ Mount Athos, Greece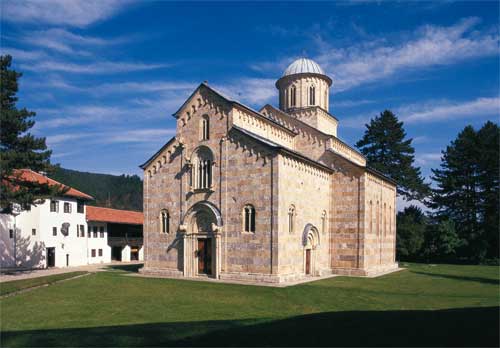 Decani Monastery, Kosovo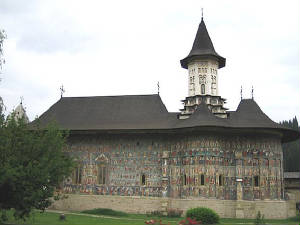 Sucevita Monastery, Romania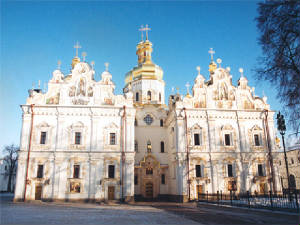 Kiev-Pechersk Monastery, Ukraine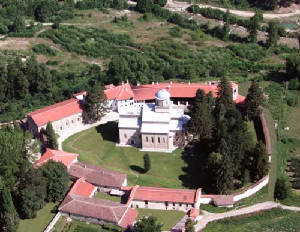 Decani Monastery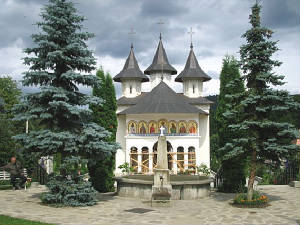 Sihastria Monastery (the New Church), Romania
| | |
| --- | --- |
| Danilov Monastery, Moscow, Russia | Monastery of Molivdoskepasti, Konitsa, Greece |
|   |   |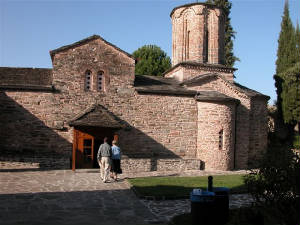 The Monastery of Molivdoskepasti, Konitsa, Greece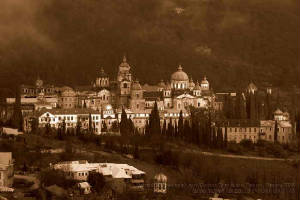 Hermitage of St. Andrew (Russian), Karyes, Mount Athos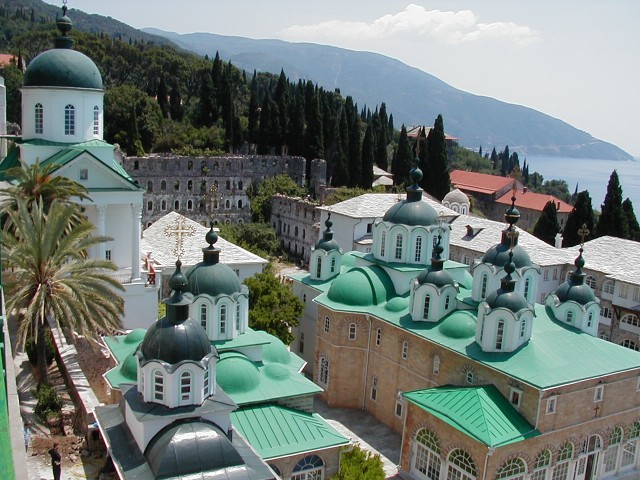 Holy Monastery of St. Panteleimon, Mount Athos (photo by Peter Serko)