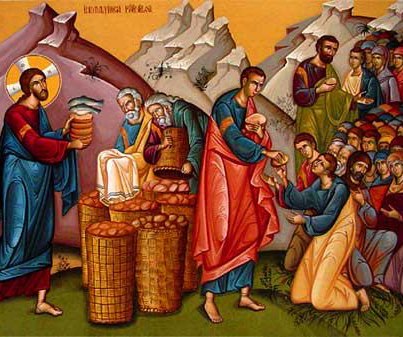 The Reading is from Matthew 14:14-22
At that time, Jesus saw a great throng; and he had compassion on them, and healed their sick. When it was evening, the disciples came to him and said, "This is a lonely place, and the day is now over; send the crowds away to go into the villages and buy food for themselves." Jesus said, "They need not go away; you give them something to eat." They said to him, "We have only five loaves here and two fish." And he said, "Bring them here to me." Then he ordered the crowds to sit down on the grass; and taking the five loaves and the two fish he looked up to heaven, and blessed, and broke and gave the loaves to the crowds. And they all ate and were satisfied. And they took up twelve baskets full of the broken pieces left over. And those who ate were about five thousand men, besides women and children. Then he made the disciples get into the boat and go before him to the other side, while he dismissed the crowds.
Synopsis: The Feeding of the Five Thousand has many truths that we must learn. Some are apparently obvious, but still we should take note of them, since we do not do them enough: We must cultivate compassion for everyone, give thanks for all things, and trust our Lord Jesus Christ in all things and in all circumstances. The powerful truths of this miracle can be thought of as deeper layers. They are not immediately apparent from a surface interpretation of the text. Let us look especially at these truths as the Lord teaches us about true compassion, and trust in all circumstances. Another layer of truth in this event regarding the ministry of the twelve apostles, and the government of the apostolic church. (source: St. Nichalos Orthodox Church) Christ commanded the apostles, "you give them something to eat," this is also a message to us that we must do stewardship - to give of ourselves.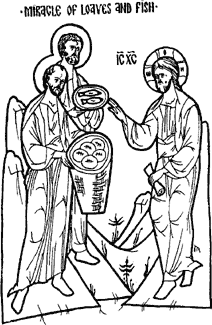 Mark 6:30-46 New King James Version
30 Then the apostles gathered to Jesus and told Him all things, both what they had done and what they had taught. 31 And He said to them, "Come aside by yourselves to a deserted place and rest a while." For there were many coming and going, and they did not even have time to eat. 32 So they departed to a deserted place in the boat by themselves. 33 But the multitudes
saw them departing, and many knew Him and ran there on foot from all the cities. They arrived before them and came together to Him. 34 And Jesus, when He came out, saw a great multitude and was moved with compassion for them, because they were like sheep not having a shepherd. So He began to teach them many things. 35 When the day was now far spent, His disciples came to Him and said, "This is a deserted place, and already the hour is late. 36 Send them away, that they may go into the surrounding country and villages and buy themselves bread;
for they have nothing to eat." 37 But He answered and said to them, "You give them something to eat." And they said to Him, "Shall we go and buy two hundred denarii worth of bread and give them something to eat?" 38 But He said to them, "How many loaves do you have? Go and see." And when they found out they said, "Five, and two fish." 39 Then He commanded them to make them all sit down in groups on the green grass. 40 So they sat down in ranks, in hundreds and in fifties. 41 And when He had taken the five loaves and the two fish, He looked up to heaven, blessed and broke the loaves, and gave them to His disciples to set before them; and the two fish He divided among them all. 42 So they all ate and were filled. 43 And they took up twelve baskets full of fragments and of the fish. 44 Now those who had eaten the loaves were about
five thousand men. 45 Immediately He made His disciples get into the boat and go before Him to the other side, to Bethsaida, while He sent the multitude away. 46 And when He had sent them away, He departed to the mountain to pray
**artwork from GOArch